Mangalore: Polls for 60 wards of Mangalore city will be held on November 12. In this backdrop, district BJP unit president and legislator Sanjeev Mathundur released the BJP's manifesto on Wednesday evening at the office of the district BJP office with the motto of 'clean, beautiful, well-organized nam kudla'.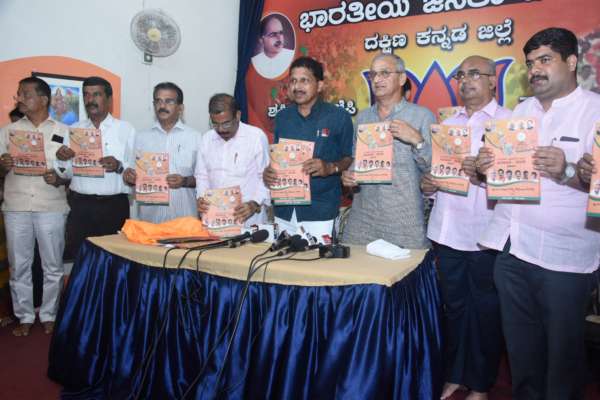 Speaking at a news conference, District BJP unit president Sanjeev Matandur said Mangalore is the only city in the state that has road, rail, air and water connections. Education, Health, Banking, Commerce, Fisheries, Tourism He added that the religious, cultural and folk rituals of the coast are a reflection of the Indian culture of unity in diversity.
Future plans
Priority will be given to infrastructure including road, drinking water and electricity. The railway station and other facilities will be upgraded. Quality drinking water will be supplied throughout the 24x7 period. The playground, library, park, sidewalk and overpass will be constructed to suit the needs of citizens of different ages. Sanjeev Mathandur said the purpose of the international stadium was to be built.
Rapid implementation of the theater works. Special project for the comprehensive development of SC-ST residential areas. Repair and maintenance of open wells in the city. He said making the administration of the child-friendly system compulsory implementation of all available laws against begging, drug trafficking and child exploitation.
Waste disposal for building construction in Mangalore city will be arranged. The problem of emeralds will be solved through the implementation of an effective system with the help of voluntary organizations for the preparation and processing of dry and nutmeg. Wenlock informed that LadyGoshan hospitals would be upgraded to a super specialty grade.
LCD screens will be installed at all bus stations in the city to provide bus schedules and other information. Settlement bus stations will be set up in the outskirts of the city to reduce traffic congestion. He said the development of all planned amenities would be initiated.
Priority will be given to the decentralization of the centralized system of policy coverage. Priority for e-Governance will be provided with Single-Party Planning, Paperless Office, Citizen's Online Payment Gateway and other amenities. Confusion in the issuance of property card will be alleviated. He said a panel of experts would be formed on SmartCity project costs.
MLAs Vedavasi Kamath, Dr Y Bharat Shetty, BJP leaders K Ganesh Karnik, Monappa Bhandari, Pooja Pai, Prabha Malini, Yogish Bhat and others were present.